TOM BRADY/ROB GRONKOWSKI NEW ENGLAND PATRIOTS "BRADY & THE BEAST" Engraved Signature Plates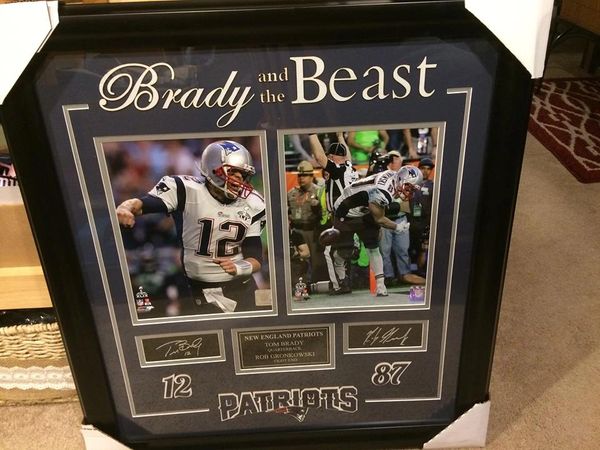 TOM BRADY/ROB GRONKOWSKI NEW ENGLAND PATRIOTS "BRADY & THE BEAST" Engraved Signature Plates
Grace your Man Cave with this handsome and impressive photo and customized matted photo collage. This superb custom item has two official NFL photos with holograms. Below the photos are two laser engraved signature reproduction of Tom Brady and Rob Gronkowski. This is absolutely the last one of these, a great item to collect and share with your fellow fans. The bottom of the photo features a 3D Cutout of the Patriots and their logo as well as Tom and Rob's Numbers.
Professionally framed and matted. It is fairly large and heavy (around 5.5 LBS), you really can't see in pictures, but it is good size.
Size is 23" X 25" with custom REAL WOOD black frame and Glass.
Reviews