New York Giants Super Bowl Championship Ring Set 1986/1990/2007/2010 with Mahogany Display Case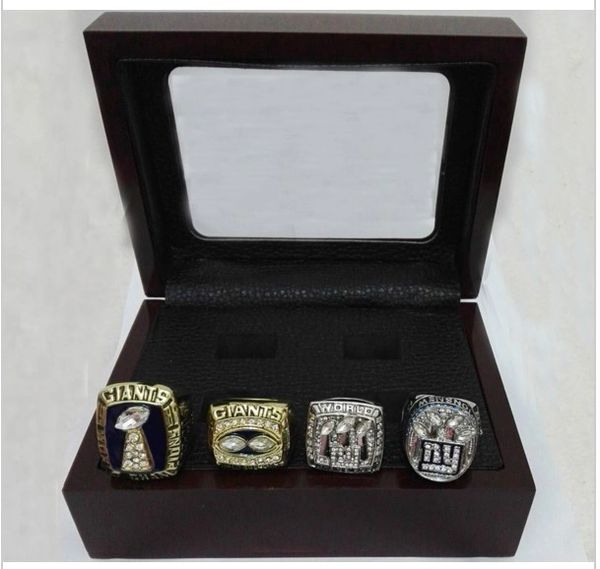 New York Giants Super Bowl Championship Ring Set 1986/1990/2007/2010 with Mahogany Display Case
New York Giants Super Bowl Replica Ring Set
High quality, exceptional detail, includes wooden display box. 4 Rings Includes:
1986-1990-2007-2010

All rings are exactly similar to what you would expect for a high school ring. Each is made of heavy zinc alloy and plated in 24k Gold and includes hand set AAA cubic zirconia stones with deep and detailed carving.

Rings are removable and wearable if desired.
Sizes Available: 11 standard. other sizes available for special order.
Solid Zinc Alloy-14K Gold Plated-Includes Display Box as Shown

Free USPS Priority Mail Included in pricing after production and completion of your order.

This is a limited quantity offer. The mahogany wooden box displays all 4 rings and closes. 
The product is excellent quality and is solid zinc alloy and sparkling crystals. Sorry, no returns accepted for this item. Only for shipping damage or defective product.

WE INSPECT ALL ORDERS and PHOTOGRAPH FOR QUALITY BEFORE SENDING OUT TO OUR CUSTOMERS.
Reviews