LIMITED EDITION WILLIE MAYS HALL OF FAME CAREER STATS MVP RING #Vintage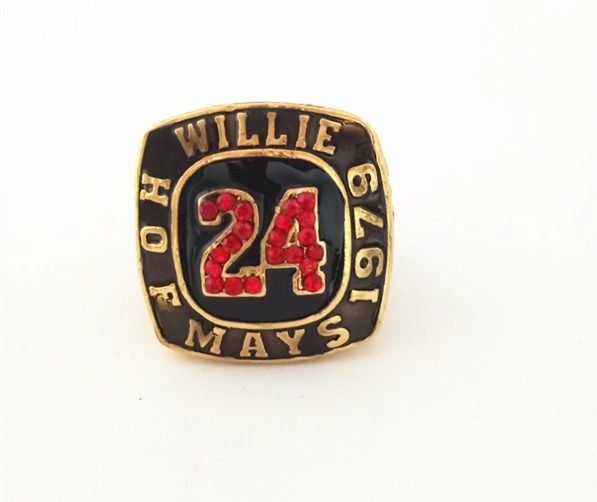 LIMITED EDITION WILLIE MAYS HALL OF FAME CAREER STATS MVP RING #Vintage
LIMITED EDITION WILLIE MAYS HALL OF FAME CAREER STATS MVP RING
Commemorative Ring.
This hard to find ring is heavyweight and solid as shown in pictures. This is a perfect gift for any
SPORTS
MEMORABILIA
Fan. The ring is solid stainless steel/alloy and plated with 18K or 24K gold and was meant to be used as display. You can wear the rings, just be careful about using chemicals or even some hand soaps and disinfecting lotions. SORRY, THIS RING IS LIMITED TO SIZE 11 ONLY.
This ring is brand new and never been worn.
Excellent Quality
High Grade Stones AAA+++ Cubic Zirconia
Inscribed on both sides of ring (as shown)
Willie Howard Mays, Jr. (born May 6, 1931), nicknamed "The Say Hey Kid", is an American former Major League Baseball (MLB) center fielder who spent almost all of his 22-season career playing for the New York/San Francisco Giants, before finishing with the New York Mets. He was elected to the Baseball Hall of Fame in 1979, only his first year of eligibility.
Mays won two National League (NL) Most Valuable Player (MVP) awards, ended his career with 660 home runs - third at the time of his retirement and currently fifth all-time - and won a record-tying 12 Gold Glove awards beginning in 1957, when the award was introduced.[1]
Mays shares the record of most All-Star Games played with 24, with Hank Aaron and Stan Musial.[2][3] In appreciation of his All-Star record, Ted Williams said "They invented the All-Star Game for Willie Mays."[4][5]
Mays' career statistics and his longevity in the pre-performance-enhancing drugs era have drawn speculation that he may be the finest five-tool player ever, and many surveys and expert analyses, which have examined Mays' relative performance, have led to a growing opinion that Mays was possibly the greatest all-around baseball player of all time.[6] In 1999, Mays placed second on The Sporting News's "List of the 100 Greatest Baseball Players", making him the highest-ranking living player. Later that year, he was also elected to the Major League Baseball All-Century Team. Mays is one of five National League players to have had eight consecutive 100-RBI seasons, along with Mel Ott, Sammy Sosa, Chipper Jones, and Albert Pujols. Mays hit over 50 home runs in 1955 and 1965, representing the longest time span between 50-plus home run seasons for any player in Major League Baseball history. His final Major League Baseball appearance came on October 16 during Game 3 of the 1973 World Series.
Reviews