1987/1997/1998/2013/2015 DENVER BRONCOS Replica Super Bowl Ring Set-Beautiful Mahogany Display (OPT)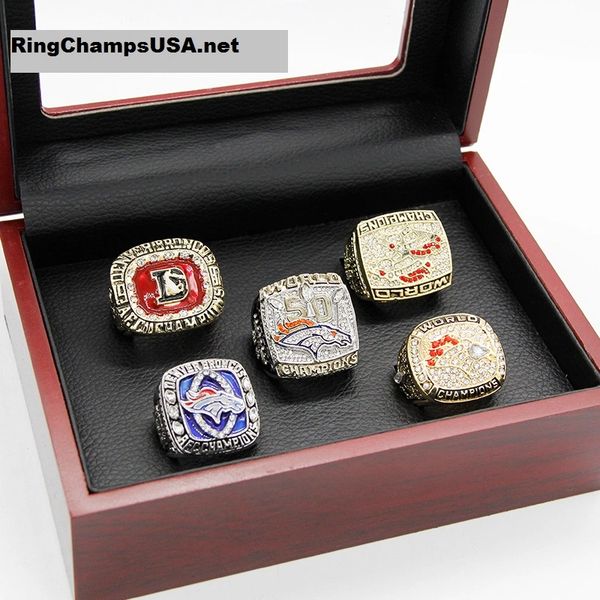 1987/1997/1998/2013/2015 DENVER BRONCOS Replica Super Bowl Ring Set-Beautiful Mahogany Display (OPT)
Denver Broncos 3 Ring Set with mahogany display case now available. 1987/1997/1998/2013/2015 DENVER BRONCOS Replica Super Bowl Ring Set-Beautiful Mahogany Display 
REGULAR PRICE OF $249.00.
All championship rings are exactly similar to what you would expect for a high school/college ring. Each is made of heavy zinc alloy and plated in 24K Gold and includes hand set AAA cubic zirconia stones with deep and detailed carving.
========================================================================
This ring set is available in Size 11 standard. other sizes available by special order
Please note:

Because our rings are custom made in order to offer personal ring sizing, your order may take 7-10 business days to be made and shipped. Please take this lead time into account if ordering for a special occasion.
Denver Broncos Super Bowl Rings, Denver Broncos Championship Rings, Broncos Rings, Rings for sale.
PLEASE NOTE: NOT ALL RINGS ARE AVAILABLE IN CUSTOM SIZING. PLEASE REFER TO THE TOP OF THE LISTING FOR CHOICE OF SIZES. SOME RINGS COME IN SINGLE SIZE SELECTION ONLY AND ARE NOTED IN DESCRIPTION.
Reviews